Hot Spring
Enjoy the famous hot spring water of Horita Onsen, one of the eight primary hot spring sources in Beppu. Each of our guestrooms feature a half-open-air bath that looks out over the city and Beppu Bay where you can indulge in these healing waters any time day or night.
HOT SPRING
On a hill overlooking Beppu
Enjoy a private hot spring bath
Horita Onsen is an old transportation hub connecting Yufuin and Hita. It also has a long history as a flourishing hot spring resort since the Edo period (1603-1867). The famous sulfur spring water is said to alleviate sensitivity to cold, mild asthma, and fatigue, as well as atopic dermatitis, psoriasis vulgaris, chronic eczema, epidermal pyogenesis, and peripheral circulation disorders. Visitors to Beppu have long favored its therapeutic waters and picturesque setting.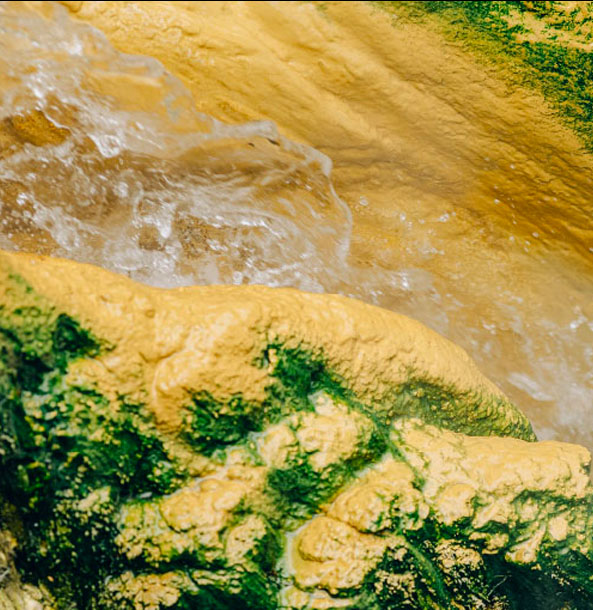 Enjoy our exceptional hot spring water and half-open-air baths
The bathing areas in each guestroom are works of art in themselves. Each one features custom-made Mino ware tiles that have a rustic appearance and texture. The bathtub, carved from solid stone, is a perfect match for the sulfuric spring water of Horita Onsen. The synergistic effect of the heat of the hot spring water accumulates in the stone and radiates back to warm body and soul.
Gently rejuvenate at Beppu's famous hot spring
Hot Spring Type
Sulfur spring (hydrogen sulfide type)
Classification and General Indications
It is classified as a sanatorium spring and is said to be effective for those with chronic skin conditions, cuts, and diabetes. Other general indications include efficacy for rheumatoid arthritis, osteoarthritis, back pain, bruises, and sprains. It also alleviates sensitivity to cold, stress-related symptoms (sleep disorders, depression, etc.), and relieves fatigue. It may also help relieve hypertension and arteriosclerosis can be expected.